HT:
tgere79 on Twitter
Update: New language excludes gift card redemptions from 10% on Discover Deals. If this is being enforced, you will only be able to earn 10% once for a total of 20-30% cashback. HT - @RobertDwyer on Twitter
It is official, Discover is my absolute favorite card this year.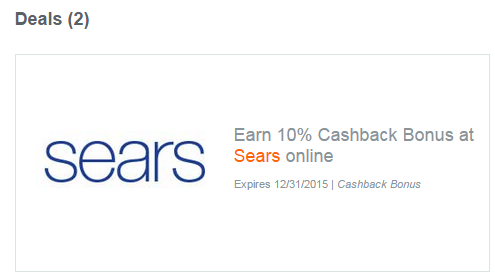 I am extremely surprised at this, but Discover Deals is back to a 10% payout for Sears. This is just in time for a new quarter to earn 5% cashback on up to $1,500 in purchases at Sears.
As Frequent Miler has shown
(my own experiments show the same), it is still possible to earn cashback on the purchase of gift cards and a second time when you use the gift cards. That would bring your total cashback to 25% on the first $1,500 in purchases.
Since many people are enrolled in the Discover Double Cashback promotion. The 25% is actually equal to 25% now and 25% in 13 months, for a total of 50% cashback.
I'm sure we can find plenty of deals at Sears, but the door is wide open for us for the new quarter. It might be time to ask for a credit limit increase!
If you don't have a Discover Card, you can use
my referral link
to earn a $50 signup bonus (doubled after the 13th statement) after your first purchase.
Caution:
Discover may clawback rewards (especially if the purchase is made entirely with gift cards) and/or transactions may not track properly. That's just a risk of the game.