Update: This offer seems to be more targeted than usual. Many people are reporting that they did not get the targeted email they seem to receive every time there is an increased eBay Bucks offer (I didn't get either this time). I hope it is just because it's the highest denomination of eBay Bucks increase. Hopefully it is a not a sign of things to come. We'll see.
Check your emails for an offer from eBay for extra
eBay bucks
.
5x eBay bucks on any item of $50 or more.
If you didn't buy those ExxonMobil gift cards, now (better said, after 11am ET) is the time to buy them.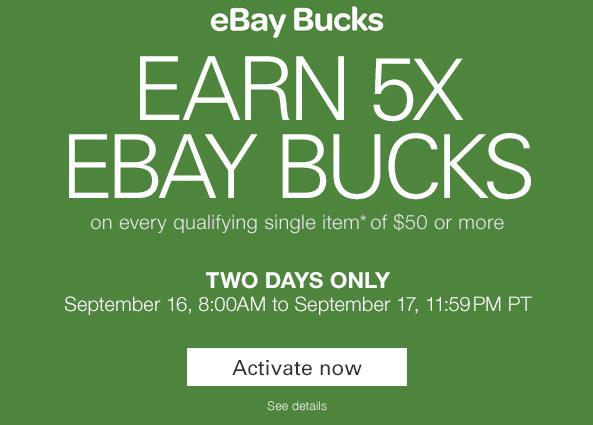 Check out Doctor of Credit's post on targeted eBay Bucks promotions.
This a multiplier of the regular 2% eBay Bucks so 5x is actually 10% in eBay Bucks!
No eBay bucks given for eBay gift cards, but most other purchases earn them. eBay bucks can be used for later purchases and can be very valuable, especially when buying discounted gift cards.
I've earned $500 in eBay bucks in just August on just one of my accounts which I will be able to use starting October 3rd. Unfortunately there is a max of $500 earned per quarter so I have hit my max without starting a new account ;)