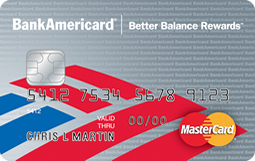 The last couple of applications for myself, my wife and family members for a second (or fourth)
Bank of America Better Balance Rewards cards
have resulted in a denied application since Bank of America says it is a duplicate application.
Multiple Better Balance rewards cards are highly desirable to me
since each card has a
value of up to $120 a year with zero effort once everything is set up.
I like to think of them as the credit cards that keep on giving.
I was getting kind of bummed, until I remembered that there is a workaround. Other Bank of America credit cards can be "downgraded" into the Better Balance card by calling up.
I happen to have two Bank of America Cash Rewards cards because they were offering a $400 sign up bonus at the time. I called tonight and I was able to downgrade my second Cash Rewards card into my fourth Better Balance Rewards card. Awesome!
Right now, you can sign up for a Cash Rewards card with a $175 sign up bonus for spending $500 in the first 3 months
. Get your bonus and then convert, it's even better than applying directly for the Better Balance!
If you already have a Cash Rewards card, check out the
Travel Rewards card
instead.