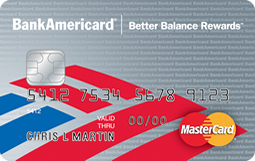 Edit: 1/1/2015 - Bank of America seems to be disallowing multiple Better Balance Rewards, but there might be a workaround.
I was just approved for my
second
Bank of America Better Balance Rewards Credit Card!
Every Better Balance Rewards credit card is equal to $100-$125 a year of almost free money. All you need to do is charge one purchase per month and pay the bill in full and you will get $25-$30 every quarter for free.
If you have a bill that you can pay automatically with the card, you can sign up for autopay and the entire process will be automated
. Automatic is my favorite, high reward and low time involvement.
The extra $5 depends on whether you have a Checking account with Bank of America as well.
I don't know how many cards each person can have, but I will try my best to find out ;)
If I can get 4 cards for myself and 4 for my wife, we will get $1,000 yearly automatically. Not too shabby!
Don't have an automatic bill to pay? Consider a $1 monthly subscription to Oren's Money Saver via Paypal. You will be helping my blog continue to put out useful tips and helping yourself at the same time with an automatic bill.
The subscription button is available in the top right corner of the site on the Desktop version.