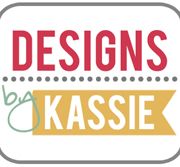 For everyone who has come to the site before yesterday, you will notice that there is a new design for the site!
The new site was designed by
Designs by Kassie
and I couldn't be happier with the results. She is very talented, she is responsive through email and keeps working until the site looks exactly the way you want it. Also, she has very reasonable prices, which is perfect for this blog's crowd ;)
I didn't have a great vision of how I wanted everything to look but she was able to come up with suggestions that worked for me and I think it came out looking very professionally.
If you are thinking about redesigning your own website, please think about using Kassie!